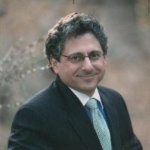 Larry Engle Honored was for his commitment to community at the Congregation KTI 130th Anniversary Gala Celebration ,Thursday, November 15, 2018
Kneses, or a place of community and gathering across generations, has been at the center of Lawrence's contributions to the Rye Brook-Port Chester community since he and his wife, Bethany, joined the community over 25 years ago.
Synagogue has an been important part of Lawrence and Bethany's lives – the origins of their relationship can be traced back to a conversation during the break between the morning
and afternoon services on Yom Kippur at Temple Beth-El in Cedarhurst, New York.
Lawrence is currently the Immediate Past-President of Congregation Kneses Tifereth Israel and is currently the chair of its Ritual, High Holy Days, and Land Committees, and has taken a leadership role in the synagogue's effort to redesign and beautify the Rotunda of the sanctuary building. Prior to serving as its President, Lawrence served as its 1st Vice President and Trustee. Lawrence is currently serving as Vice-Chair of the President's Roundtable which is a leadership program of the Westchester Jewish Council.
Lawrence's commitment to community extends prior to his service to KTI, during which he was an active participant in community and civic affairs. Lawrence served as Rye Town Prosecutor and was elected to three consecutive terms as a Trustee of the Blind Brook School District Board of Education, serving two years as its President, before he made the decision to turn his focus to KTI and the Jewish community. Over the course of his 9-year tenure as a member of the Board of Education, he personally oversaw the creation of $40 Million operational budgets and multiple $15+ Million facility construction projects. Prior to his serving on the Board of Education, Lawrence co-chaired the District's Building Expansion Design Committee and its Building Expansion Bond Campaign, and was an active member in the Blind Brook-Rye P.T.A.. Prior to his service on the Board of Education, Lawrence was a member of the Village of Rye Brook's
Planning Board, chaired the Village's Airport Advisory Committee, served on its Parks and Recreation Council where he contributed to the design and creation of Rye Hills Park, and was appointed to and served on the Westchester County Airport Advisory Council.
Lawrence has been practicing law since 1982 and focuses his White Plains-based practice on land-use, zoning and real estate law, commercial and business-related transactions, general and personal injury litigation, mediation, and arbitration. Lawrence represents a variety of clients including individuals, developers, property and business owners, prospective purchasers and sellers, and non-profits throughout the Hudson Valley and Metropolitan Area. The first 18 years of his career were spent as a trial lawyer and managing attorney for a boutique personal injury firm in New York City representing clients with severe personal injuries, including those involving medical/dental malpractice claims and traumatic brain injuries. Lawrence earned his B.S. degree at the University at Buffalo – SUNY in an Independent Major in Environmental Science, Policy and Planning in 1975, and was awarded his J.D. degree from The School of Law of
The State University of New York at Buffalo in 1982 where he took a leadership role on the Environmental Law Society and was a contributor to and editor of its Environmental Law publications. During his freshman year of college at Alfred University, Lawrence created and taught a religious school program at Temple Beth El, Hornell, New York where he introduced children ages 8 –15 years-old to the language, prayers, history, holidays and traditions of Judaism.
Lawrence is married to Bethany Randi Engle, a Family Nurse Practitioner at Mount Sinai Medical Center in New York City. They reside in Rye Brook, New York with their four children: Benjamin, Leigh, Allison, and Jeremy. Although this avid N.Y. Mets fan has celebrated their two World Series Championships in his lifetime, he doesn't think he's a chazah (Yiddish word for greedy person) when he prays for more.
Read More