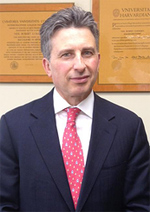 Neil Lubarsky, Esq.
Neil Lubarsky & Associates
914-997-8558
NLubarsky@aol.com
Neil R. Lubarsky, an estate planning, elder law, and tax attorney, received his law degree from Harvard University in 1980 and his Masters of Law in Taxation (LL.M.) from N.Y.U. in 1984, and has been engaged in the practice of law for over thirty years. He is admitted to the bar in both New York and Connecticut.
Mr. Lubarsky has served as an editor and as a columnist on estate planning and elder law matters for "Westchester 60+", a newspaper published by Westchester County. His articles have been published in many estate planning and tax-oriented publications, including the "C.P.A. Journal".
Mr. Lubarsky is a frequent lecturer for various continuing education programs designed for attorneys, certified public accountants, financial planners, and laypersons. He has lectured for both the New York State Bar Association and the Westchester County Bar Association on Estate Planning and Elder Law matters. He has also been approved by New York state to teach, and has taught, various continuing professional education courses on Estate Planning, Elder Law and Tax matters for both the New York State Society of C.P.A.'s and the New York State Society of life Underwriters. For many years, Mr. Lubarsky served as the Director of Education for the Westchester/Rockland branch of the International Association for Financial Planning.
Perhaps most importantly, Mr. Lubarsky, as a legal practitioner, is known for his to capacity to make people comfortable with the estate and elder law planning process, his ability to help individuals understand the law, and his orientation towards providing Senior Citizens with effective control over their assets while simultaneously enabling them to achieve their estate planning and asset protection goals.
As an extension of his Elder Law practice, Mr. Lubarsky often helps Senior Citizens recoup investment losses that resulted from dealing with unscrupulous securities brokers. He also sets up special needs trusts for disabled individuals and their families.
Mr. Lubarsky, who has lectured for both the New York State and Westchester County Bar Association Programs, is an active member of the Trusts and Estates and Elder Law Sections of the New York State Bar Association, a member of the National Academy of Elder Law Attorneys, a member of the Westchester County Bar Association, a member of the Fairfield County Bar Association, and a member of the Public Investors Arbitration Bar Association. He has been utilizing sophisticated planning techniques for his clients' benefit over 30 years.
Mr. Lubarsky is married and is the proud father of two adopted children.